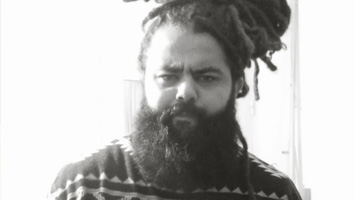 Maher Gnaoui
Biography
Born in 1987 in Gabès [TN]. He lives and works in Tunis [TN].
He's a former sculpture student at the Tunis Institute of Fine Arts [TN]. He is immersed in the world of urban art «street art» where artworks are created mainly on walls, buildings, and other structures found outside, in the streets.
The same techniques (stencils, wall collage, spray paint, etc.) are reused by the artist on everyday objects, what we could call «home-art.» Through this practice, Maher changes the appearance of the object, its image but not its function; he tattoos the surface of the object. His recent works have taken a new direction; he exploits new materials, combines metal with concrete, and intro- duces outside elements into his work.
Exhibitions
Group Shows
2014 : Kitsch, AGorgi Gallery, Sidi Bou Said, Tunisia
2013 : Slash, AGorgi Gallery, Sidi Bou Said, Tunisia
2013 : Politics 2,  The National Center of Living Art, Tunis, Tunisia
2013 : Politics, Talmart Gallery, Paris, France
2012 : Autoportrait, The BAC Art Center, Sidi Thabet, Tunisia
2012 : 
Virtual exhibition, Nafas Art Magazine, Cairo, Egypt
2012 : Politics 2, The National Center of Living Art, Tunis, Tunisia
Art Fair
2013 : O'clock Art Fair
, CNIT La Défense, Paris, France