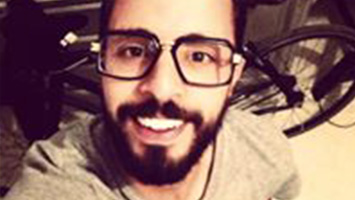 Belhassen Chtioui
Born in 1987 in Tunis. Lives and works in Tunis.

Biography
Born in 1987 in Tunis [TN]. Lives and works in Tunis [TN].
Belhassen Chtioui is a graphic designer. He completed his studies at the UAD : The University of Art and Design [TN] .
Once reserved for the world of advertising, the use of computer technology, particularly image proces- sing software, is a practice which is becoming increasingly popularized in Contemporary Art. Belhassen uses these tools in his series of «prints» or digital prints. Each image is worked in monochrome; the sub- ject is placed in the center of the image or completely staggered, partially out of scope. A special atmos- phere emerges from his work, sometimes his subjects seem to tear away from the depth and float, and sometimes they seem to want to escape the frame.
Exhibitions
Group Shows
Dégénération 2014 AGorgi Gallery, Sidi Bou Said [TN]
Slash 2013 AGorgi Gallery, Sidi Bou Said [TN]
Politics 2 2013 The National Center of Living Arts, Tunis [TN]
Autoportrait 2012 The BAC Art Center, Sidi Thabet [TN]